Banquet and Conference Rooms at Sheraton Palace Hotel Moscow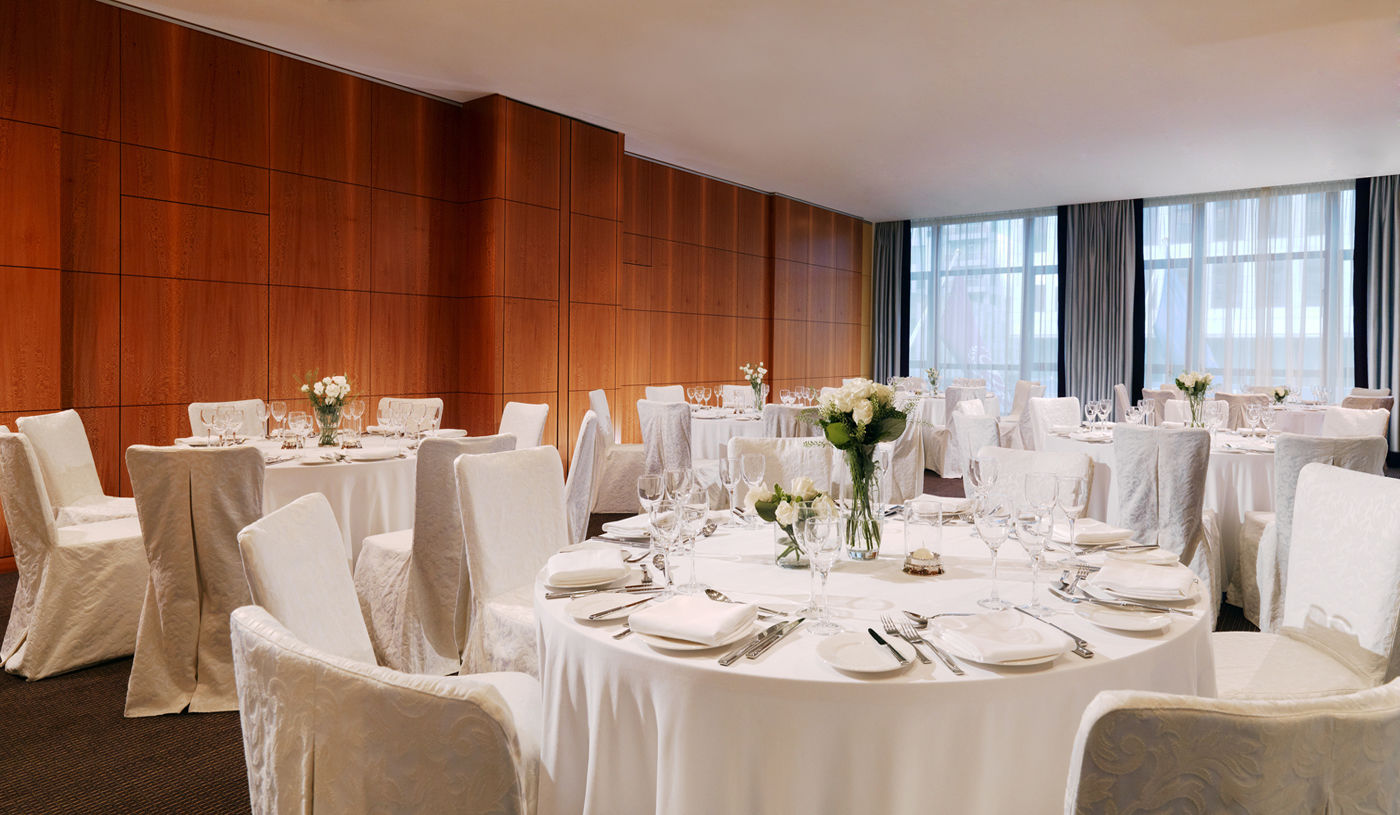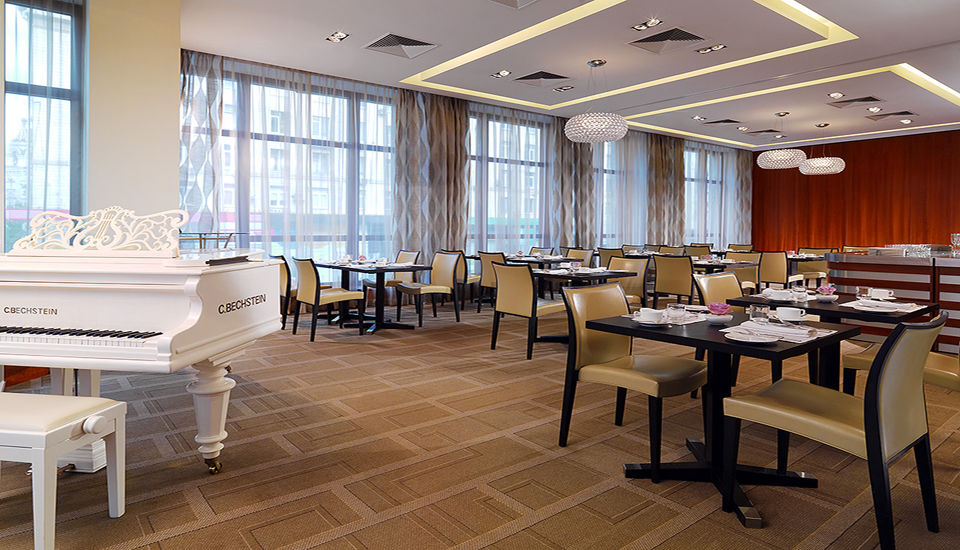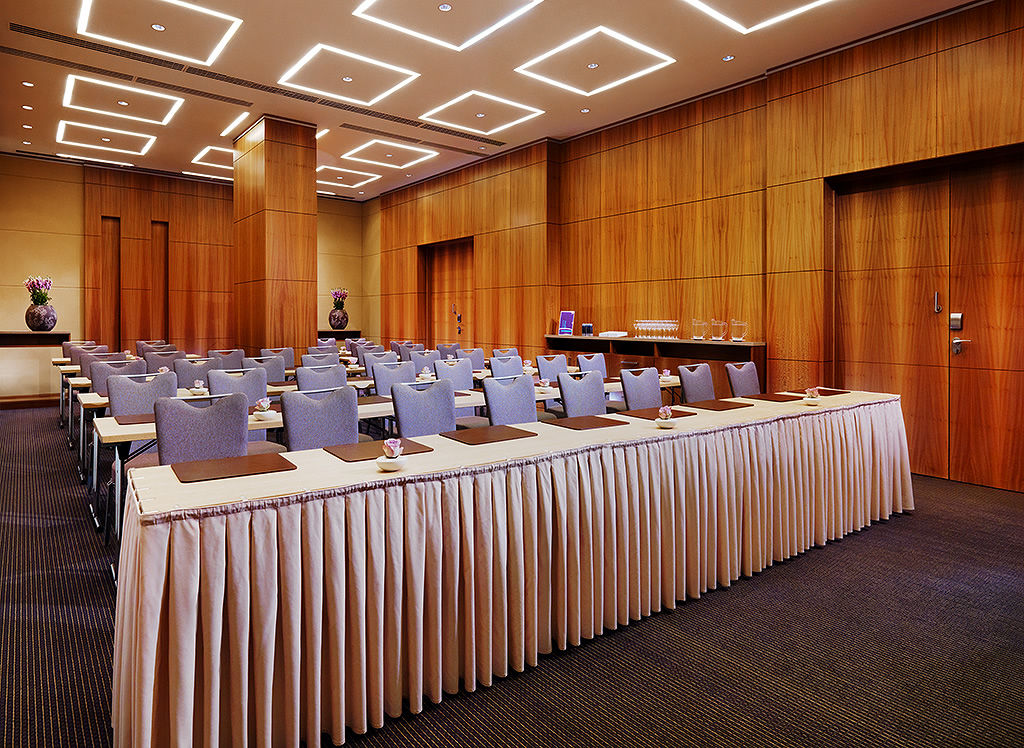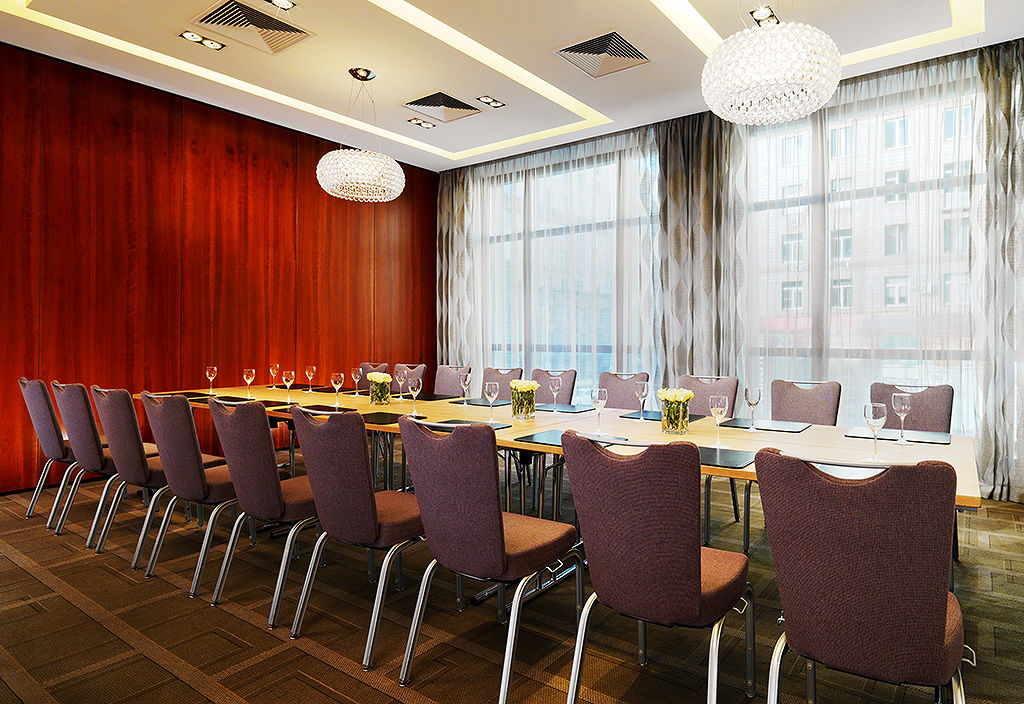 As you consider where to arrange your next conference, hold a board meeting, stage a presentation or host a banquet in Moscow, with Sheraton Palace Hotel Moscow rest assured you will experience the highest quality of service. The conference rooms of the Sheraton Palace Hotel, conveniently located in Moscow city center, can accommodate events for up to 120 persons for conference and for up to 150 persons for reception.
Our banquet rooms: elegant bright Vladimir Room (252 square meters) are an ideal venues for banquet, gala dinner, cocktail or wedding, as well as it can serve a successful stage for presentation, conference, business lunch, summit or an exhibition. The St-Petersburg Room ( 92 square meters) and the Moscow (90 square meters) meeting rooms are great venues to organize a presentation, seminar, training, business breakfast, cocktail, round table meeting, road show, social gethering or even a kid's party. The Novgorod Room ( 32 square meters) is an exclusive boardroom featuring stylish interior and fitted out with the latest equipment provides the perfect venue in Moscow city centre for business talks on the highest level and important meetings with VIP customers. All meeting and banquet rooms are located on one conference floor, feature the latest audio-visual equipment and enjoy access to the bright and spacious Hermitage Lounge ( 290 square meters) , which can conveniently accommodate exhibitions, coffee breaks, pre-function cocktails and receptions.

Today the Sheraton Palace Hotel Moscow creates an ideal opportunity to bring you up to date on Sheraton's ongoing commitment to excellence. It's easier to relax when you have a meeting specialist working with you every step of the way - right on the meeting floor! The Sheraton banqueting professionals offer the highest level of personalized service, taking care of every request no matter how big or small - in the timeliest, most efficient manner. You'll never think twice about whom to contact or how to turn last minute needs into reality.
Sustainable Meeting Practices in Sheraton Palace Hotel Moscow
Why was SMP created?
Sheraton Palace Hotel Moscow implemented Sustainable Meetings with the intention of reducing the environmental impact of its in-house meetings. We believe that economic growth and the well-being of society are inextricably tied to the health of the environment.
We provide meeting planners with a comprehensive sustainable solution through the entire meeting cycle – from planning to execution and post-meeting follow-up.
Sustainable Meeting Practices at Sheraton Palace Hotel Moscow:
Clutter Free meeting set-up- all notepads, pens, water will be placed on a separate table, encouraging participants to avoid waste.

Meeting spaces are designed using tables that do not require linen. If table coverings are preferred by the meeting planner, reusable alternatives such as cloth are offered.

When printed material is required double-sided printing is chosen.

Meeting signages are carried through LCD/LED screens to reduce paper waste.

Energy saving LED lighting in all meeting rooms and public areas are used.

Potted plants used instead of fresh cut flowers.

The entire contracting process can be developed electronically due to Emails and StarGroups, avoiding printing and paper waste. StarGroups- is Starwood's online booking tool for group reservations, allowing organizers create personalized websites for your upcoming event.
Sustainable Food & Beverage Practices at Sheraton Palace Hotel Moscow:
We give priority to local food products and offer sustainable and locally sourced food options as part of the meeting menu.

China and silverware service are used during events.

Condiments are provided in bulk containers/dispensers to reduce waste.

We are using environmentally friendly alternatives to conventional bottled water.
For more information please contact us at tel: +7 (495) 931 97 00 or e-mail us at: Sales@sheratonpalace.ru.


Meeting facilities at a glance:
Number of guestrooms: 214

Number of meeting rooms: 7

Meeting and event facilities with natural lighting and high ceiling

Large & comfortable foyer joining meeting rooms

Banqueting Services Team member always at your disposal during the event

Modern audio/visual equipment and technician service

Complimentary WI-FI Internet
Capacity Chart:
2nd Floor
| | | | | | | | | | |
| --- | --- | --- | --- | --- | --- | --- | --- | --- | --- |
| Rooms | Measures, sq.m. | Banquet | Theatre | Classroom | Clasroom with tablet chairs | Cocktail | Boardroom | O-Shape | U-Shape |
| St-Petersburg 1-2 | 92 | 50 | 120 | 60 | 80 | 70 | 40 | 50 | 45 |
| St-Petersburg 1 | 41 | - | 40 | 18 | 20 | 35 | 20 | 25 | 20 |
| St-Petersburg 2 | 51 | - | 60 | 30 | 36 | 55 | 20 | 30 | 25 |
| Moscow | 90 | 40 | 100 | 45 | 62 | 70 | 18 | 31 | 26 |
| Hermitage Lounge | 290 | - | - | - | - | 150 | - | - | - |
| Novgorod | 32 | - | - | - | - | - | 10 | - | - |
| Vladimir 1-2-3-4 | 252 | 150 | - | - | - | 250 | - | - | - |
| Vladimir 1 | 57 | - | - | - | - | 35 | - | - | - |
| Vladimir 2 | 42 | 10 | 25 | 14 | 20 | 25 | 16 | 24 | 20 |
| Vladimir 3 | 48 | 20 | 35 | 18 | 30 | 30 | 16 | 24 | 20 |
| Vladimir 2-3 | 90 | 50 | 70 | 40 | 60 | 70 | 30 | 38 | 30 |
| Vladimir 4 | 105 | - | - | - | - | 50 | - | - | - |
For more information please call 7 (495) 931 9700 (Meetings & Events Sales Office) or e-mail Sales Office